Amanda Posted on August 24 2017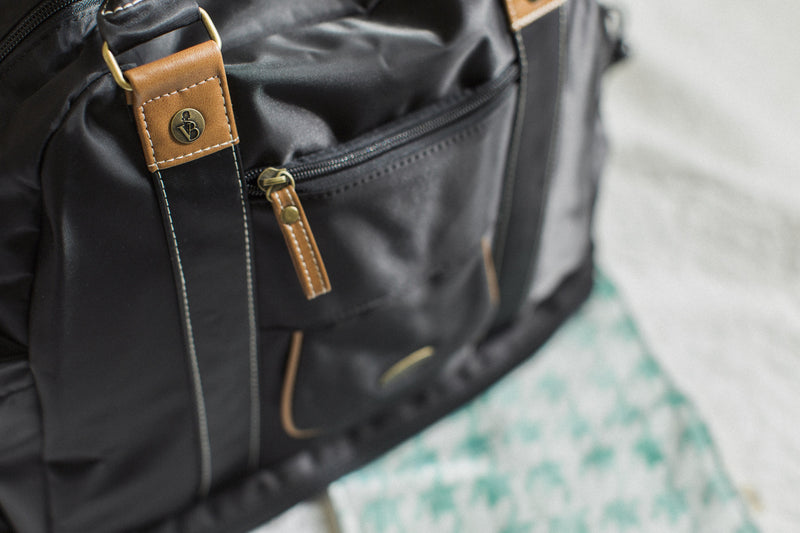 |ABOUT VILAH BLOOM|
I met Jackelynn Garrett, Owner of Vilah Bloom, when I reached out to her to see if she wanted to participate in our Brand-Blog Project. Although we haven't had the chance to officially meet, Jackie has become a very sweet friend of ours! When I learned that she also began her business on a dining room table, I was drawn to learn more about her and what Vilah Bloom stood for.
Jacki desired to create and design a stylish diaper bag (that didn't scream "diaper bag") that dispensed wet wipes conveniently.  In her very own words:
"After countless trips of forgetting my wet wipes and being less then prepared when little messes occurred with my own kiddos, I became bound and determined to design a diaper bag that fused fashion and function to help prepare parents (new and experienced) for their life's little messes. I wanted the bags to be functional, lightweight and allow easy one handed access to wipes at all times. The bags had to dispense wipes out of a hidden compartment as to not lose their sense of chic-ness. My hope is that Vilah Bloom will cater towards those fashionable minded moms who don't want to give up their sense of style for true function as a parent."
I know for certain that Vilah Bloom did exactly what they set out to do! And if you know anything about running a small business with kids, then you understand the struggles of juggling life and family.  It is hard but worth it all.
|PRODUCT REVIEW|
As I started using the Sail Away Satchel (Midnight Voyage), I quickly figured out how easy it was to find all the necessities a child needs on the go.  This bag has POCKETS and more pockets. When you plan a day trip and you need bottle, formula, toys, baby food, diapers, wipes, extra clothes, maybe your big camera, blanket for nursing, and the list goes on...you find out how quickly pockets are nice to find exactly what you need when your child is screaming! :)
And there Vilah Bloom has done it! The stylish mom bag it truly is and no one will even know its a diaper bag. Wipes in the front pocket for easy pull out and side pockets for bottles too. The changing mat fits nicely in the bottom pocket, attached with velcro if you need it!  
 |GIVEAWAY|

We are giving away 1 MOTG Convertible Backpack in Coastal Teal from Vilah Bloom (value of $149) and 1 Jogger Hoodie in Navy Stripes from us (value $40) to one lucky momma!
TO ENTER:
Follow @babysprouts + @vilahbloom on Instagram.
Like this Giveaway post on Instagram.
Tag your friends for more chances to win!
Giveaway ends Sunday August 27th 2017 @ 11:59 PM CST. WINNER will be announced Monday August 28th 2017. Open to US residents only.