Amanda Posted on November 03 2016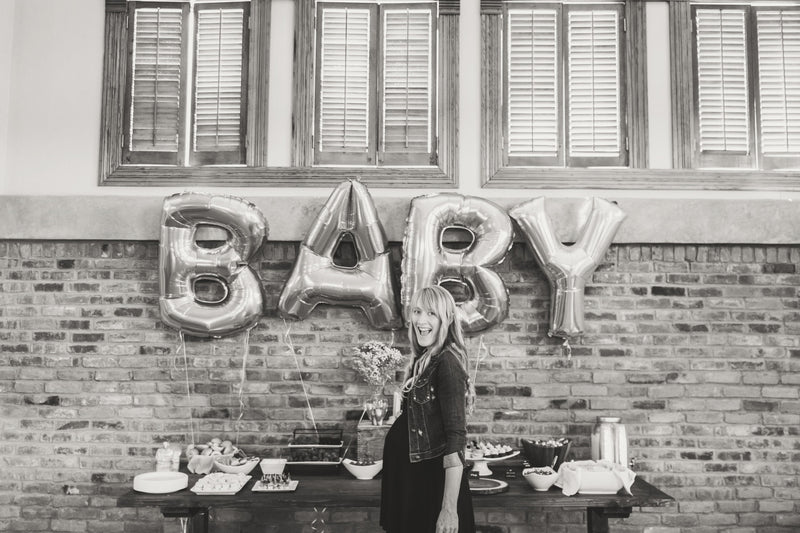 So you're thinking about planning your own baby shower... good for you, my husband and I did the same thing! As I mentioned in How to Plan Your Own Baby Shower | Post No. 1, I'm not always a rule follower; you might even say I intentionally go against the grain at times.
In our last post we discussed our easiest, yet most challenging hurdle... setting a date, time, and booking the location. Next on our list of to-dos was the fun part - the invite. Skipping the traditional girlfriends and family girls routine, we wanted to throw a family friendly party for everyone important to us and our family. After all, it's likely all of your friends and family will want to celebrate the life of the little one growing inside you.
Guests When it comes to guests, it should be pretty easy right? Family, friends, done. Well, not quite. Do you remember when you put your wedding invite list together? It's not as easy as it sounds. Contrary to what other might say, I don't think the party is just about you. It's about your husband, family, friends, and of course that new little bundle of joy who will soon make their world premiere. You want your biggest supporters and cheerleaders to be there for you on this special day. Although guests, their respective personalities, quirks and all, come as a package deal - don't ever be fearful of asking guests to slow it down on the drinks or to reign in their kids. 
Family We live in a small town and although some of our family is close, many others live one or two towns, even states away. We knew some of our extended family wouldn't be able to make it, so we just had to prioritize. Having our parents at the party was something we had to make happen, so they were prioritized first. One of the best parts of involving family, they're usually more than willing to help out - especially in the kitchen :)
My mom and sister are working in the kitchen while my dad visits with a new friend.
My mother in law (middle) and two of her sisters.
A small portion of our family that was able to come!
Friends. What's a party without friends? These are the people that have always been by your side, and will continue to be by your side as you raise you new little one. What's the old saying? "It takes a village to raise a child..." I couldn't agree more.
Little Levi, center of attention - son of Kyle and Paige Schuster.
 Sweet Caroline - daughter of the Gatz family.
Blakely is already drawing a crowd - daughter of John and Cortney Pettit.
 Big brother love.
 I'm not sure what I was communicating with this face!
Christopher, my husband, visiting with friends.
Invitations I tried so hard to make my own invitations, but let's face it - I'm not a graphic designer. It didn't take long to find The Oyster's Pearl, a fabulous shop on Etsy; we finally decided on this design. I contacted them, purchased the design I was interested in and off to the printed they went. The company was very quick to respond and our order was processed quite promptly, before long the invitations were addressed, sealed, and shipped. It's probably best to send invitations out at least 4-5 weeks ahead of time, especially if your event is in the summer... schedules fill up fast!
Decorations Always a little tricky. Some questions we asked ourselves were:
"How much money do we want to spend?"
"What theme or colors do we want to use?"
"Can we custom make some of our own decor?"
"What items do we already have at home that we can use?"
With so many questions about which direction to go with decor, sometimes simple is better.  The space we live in, and location of our party, already had a big part of the look we wanted: rustic, modern, natural light, and old charm. While big box store decorations can fit the bill at times, they don't always have the most unique selection. As always, planning early is key - especially if you're somewhat indecisive like me. If you wait until the last minute, it's a big rush and just not fun.
I really wanted to use B-A-B-Y balloons as a center piece. We absolutely loved these (see photo below) - but had a tough time getting them home (funny story below). We purchased these from ChrissyBPartyShop on Etsy. They turned out great and lasted for a very long time in our home before we finally popped them. 
Back to our funny story. We live right next to a flower shop where you can get balloons filled with helium. The morning of the shower, my mom suggested driving to the shop just to keep the balloons contained. I laughed at the idea as the shop was right behind our home. We decided to walk the balloons over to the shop. Once they were filled we started walking home, thinking a firm grip on the balloon strings would suffice. Just as we turned the corner, a small gust of wind popped up - all of a sudden the letter 'Y' took off down the sidewalk! I, along with my 8 month-pregnant belly, jumped as high as I could trying to grab it... alas, we watched the letter 'Y' fly away into the blue sky. I stood there with my mouth open and my eyes nearly in tears. The string had unattached itself to the balloon and was still left in our hands. Unfortunately it didn't get tied on very well.
What was I supposed to do with the letters B-A-B? 
We had 2 options.  Hurry and find another letter that was similar to the others in town OR not use them at all. It was so hard, especially when pregnant, not to feel like the world was going to end over a balloon...a balloon, seriously. My husband and I called every shop and party store within a 100 mile radius trying to find something similar. With very little time left, I left for town (35 min away) and purchased another gold 'Y'. The new 'Y' was a yellow-gold and a few inches smaller - the original letters were bronze-gold. We hung up the letters and although it was noticeable to me, it still worked out and I'm not sure whether anyone even noticed!
The real color of the B-A-B-Y letters.
This is my excited face - people are arriving and the food is almost done! (Can't even tell a color difference of the balloons in black and white photos.)
Ribbon tassel decor hanging our our handmade baby crib. My husband and I made this crib together with this tutorial. Tassel is by EllenorShop via Etsy.
 The party is starting to arrive!
Simple baby's breath, our 20-week sonogram, a gold elephant from Hobby Lobby, and moccs from VonBon.
Until next time...food and display prep.
(Photo Credit: Love Tree Studios)